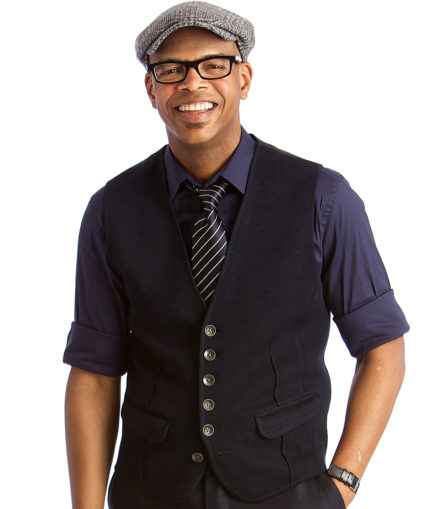 Kevin Carroll is the founder of Kevin Carroll Katalyst/LLC and the author of three highly successful books, Rules of the Red Rubber Ball, What's Your Red Rubber Ball?!, The Red Rubber Ball at Work and A Kids Book About BELONGING published by ESPN, Disney Press and McGraw-Hill and A Kids Book About. As an author, speaker and agent for social change (a.k.a. the Katalyst), it is Carroll's "job" to inspire businesses, organizations and individuals—from CEOs and employees of Fortune 500 companies to schoolchildren to maximize their human potential.
With his consulting endeavors, Kevin has helped turn creative ideas into reality for organizations such as the National Hockey League, ESPN, Nike, Starbucks (his words appeared on 17 million Grande cups), The National Basketball Association, Walt Disney Company, Mattel, Hasbro, Procter & Gamble, Discovery Channel, Capital One and many others.
Raised by his grandparents in Philadelphia, Carroll spent endless hours at the neighborhood playground where he found his calling: a red rubber ball. His subsequent pursuit of play and his "red rubber ball" took him overseas with the Air Force, where he served as a language interpreter and translator, gaining fluency in Croatian, Czech, Serbian and German.
After serving in the Air Force for ten years and earning his college degree, Carroll became an athletic trainer at the high school and collegiate levels in Philadelphia. His expertise in sport performance recognized by the 76ers organization and led to his job as the head athletic trainer for the Philadelphia 76ers in 1995. While at the 76ers, Nike tapped Carroll to bring his unique experiences to the sneaker giant in 1997. Although no job "officially" existed at the time, Carroll was directed to create a position at the company that would add value to the overall mission of the brand. Carroll accepted the challenge and stayed for seven years as "Katalyst" (the 'K' is for Kevin)—a creative change agent. At Nike he was instrumental in helping the company develop a deeper understanding of athletic product performance,
team dynamics and interpersonal communication. Carroll left Nike in 2004 to create his own company, Kevin Carroll Katalyst/LLC, committed to elevating the power of sport and play around the world.
Carroll has dedicated his life to advancing sports and play as a vehicle for social change and success. He partners with non-governmental organizations and businesses around the world that share his vision and goals. He was honored to address the United Nations as part of the UN Year of Sports for Development and Peace in 2005. He has been an advisor for Beyond Sport, a global gathering of social innovation leaders and sports organizations, from 2009-2013 (Archbishop Desmond Tutu is the Patron of Beyond Sport). In 2013, Kevin was named by SUCCESS magazine as one of 19 "SEERS – changing the world!"
Carroll holds a MS in Health Education from St. Joseph's University, a BA in Speech Communication with a minor in Physical Education from Angelo State University and an Associates Degree in Interpreting and Translating from the Community College of the Air Force. Kevin is a frequent visiting lecturer at schools, colleges and universities across the United States and internationally.
The PIVOT: Adopting a Game Changing Mindset During Difficult Times
"Resilient people are everywhere. They are ordinary women and men, in every walk of life, who meet the definition of resilience set forth by American Psychological Association – adapting well in the face of adversity, trauma, tragedy, threats or significant sources of stress." – Meg Jay. The tools, resources and best practices used by those that possess an uncanny ability to be resilient and overcome upheaval, uncertainty or difficult times can be taught and adopted. Learning the art + science of sustained determination (aka resilience) can provide a leader with the game changing mindset needed to face a challenging situation with grit, grace and studied confidence.