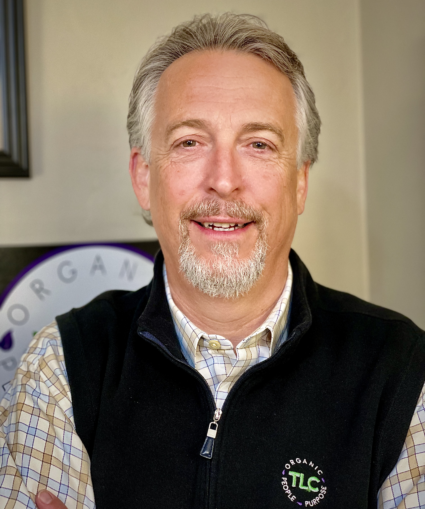 As a long-time organic industry veteran, Todd has been fortunate to work with many great companies building brands and immersing himself in the organic industry from every aspect imaginable.
Over 35 years ago, Todd started work as a produce manager for a small natural foods company. As his love of the industry grew, so did his experience. Working nights on the Los Angeles produce market, time in Moss Landing as part of the first organic grower/shipper operation, all the way to a vice presidency at Cal-Organic/Grimmway, one of the most prolific organic grower/shipper operations in the country. On his journey, Todd helped grow the sales company and their tilled acreage from hundreds to tens of thousands of acres, multi-millions in sales, and the gold standard of organic produce with countless handshakes.
In 2015 Todd formed Todd Linsky Consulting, known as TLC. TLC has advised investors, start-ups, retailers, and growers. His areas of expertise are people, positioning, and prognosticating. Working in all aspects of fresh produce and medical cannabis spanning soil to CEA, Todd's vision and insight continue to grow sharper with each experience.
Most recently, Todd has started a couple of global broadcasts, Todd-versations, and Todd-bits, built around chatting with folks who shape the global food experience. From edible school gardens to new Ag technology, Todd finds the people and companies making a difference in our lives and our planet.
Whiteboard Session:
How has the "Local Produce" push changed the consumer shopping experience?
Session hosted in collaboration with the Fresh Produce and Floral Council
In this session, we will explore "What is Local?" and its growing impact on consumers, when local started to matter and why, how local items filled a void in supply chain disruptions, and how shopping local is rekindling consumer confidence.
As we enter the post-pandemic era, retailers can't afford to become complacent; they must work harder than ever to keep customers safe, satisfied, and engaged, retaining and growing positive consumption.
Local items offer consumers a more personal brand experience. Local produce introduces shoppers to people doing business in their very own cities. These local farmers, craftsmen, and artisans touch today's consumers on a morals and value level. As a bonus, local produce drives local economies, allows people to know who's behind their produce, and drives unique customer experiences into community shopping.
This session will explore how we uplift local brands and will address the following:
What is local?
What does local mean to consumers today?
What is local intent?
What have you learned about shopping local?
What can be learned from local brands about building a personal brand-to-consumer connection?
What are the benefits of uplifting/partnering with local brands?
How have supply issues affected local brands? How have companies leaned on local brands to help relieve supply chain delays?