The CGA Strategic Conference offers a variety of sponsor packages; each providing various levels of name recognition and meaningful benefits. Most conference sponsor packages include pre-arranged, face-to-face retailer meetings as part of the investment. With some sponsorships, CGA will work with you to design just the right sponsorship that reflects your specific goals.
PREMIUM SUITE HOLDER
Meet with your top customers in your own "office". Premium Suite Holders receive private, reserved use of their own Business Conference Suite during the conference to host 40-minute retailer meetings. Suites offer the exclusive opportunity to customize the meeting environment to reflect your individual brand and style. Also included in this package is the opportunity to broadcast a commercial during Monday's General Session, a company banner in the exhibit hall, logo recognition on the conference website, and two complimentary conference registrations. SOLD OUT
EXECUTIVE LEVEL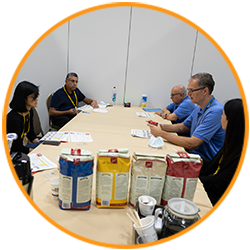 Executive Level sponsorship benefits include priority position for up to five 40-minute Retailer Review meetings (additional meetings at 20-minutes), priority scheduling, recognition at the conference General Session and two complimentary conference registrations. SOLD OUT
PRESIDENT LEVEL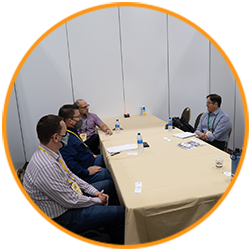 President Level sponsors receive preferred position for 20-minute Retailer Review meetings as well as recognition on the conference website and on-site guide, and two complimentary conference registrations. SOLD OUT
DIRECTOR LEVEL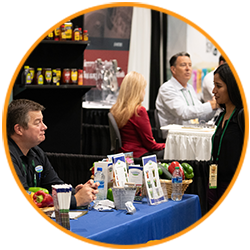 The CGA Strategic Conference Floor is the location for individual business meetings and daily conference meal functions. In addition to a 10' x 10' display space, Director Level sponsors receive the ability to participate in 20-minute Retailer Review Sessions, on-site sampling rights, and listings in the conference guide and website and two complimentary conference registrations. SOLD OUT
OPENING RECEPTION CO-SPONSOR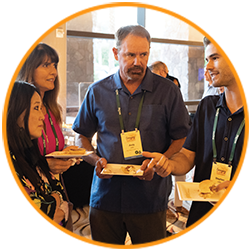 The opening night reception is one of the signature social events at the CGA Strategic Conference. Here attendees gather for an unparalleled opportunity to get to know their industry peers in a fun, relaxed environment. Sponsorship is limited to two co-sponsors and provides plenty of recognition opportunities in conference materials and during the evening's program.
AFTER HOURS SOCIAL SPONSOR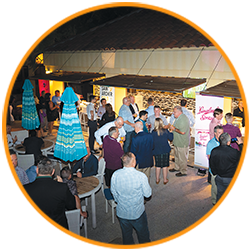 The quality of the CGA Strategic Conference's networking opportunities consistently ranks among the most beneficial features of this annual event. What better way to connect with conference attendees than highlighting your company and product at this relaxing networking event. Sponsorship includes complete naming rights and premium sampling opportunities. SOLD OUT
REGISTRATION SPONSOR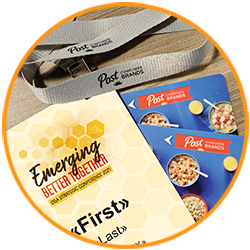 CGA is pleased to offer the high-profile, exclusive opportunity to promote brand awareness through conference registration materials. The Registration Sponsor will be recognized through branded presence on conference registration materials including attendee name badge holder, on host hotel room keys as well as in conference marketing materials. SOLD OUT
TUESDAY KEYNOTE SESSION SPONSOR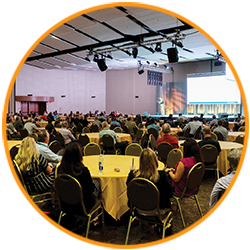 Tuesday's educational program is anchored by a luncheon keynote address featuring one of the conference's high-profile presenters. CGA offers the opportunity to be the presenting sponsor of this session and receive benefits that include addressing the audience and introducing this notable conference session.
OPENING EXPERIENCE SPONSOR OR CO-SPONSOR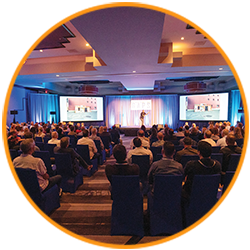 The conference begins here at The Opening Experience with an insightful educational speaker. Sponsorship of this event offers your company executive the opportunity to address the attendees and welcome them to the conference. SOLD OUT
WIFI SPONSOR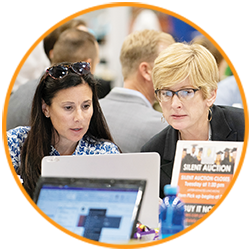 Fast, free WiFi is always a highly valued service for conference attendees. This sponsorship offers an exclusive opportunity to get your brand in front of all attendees through a custom splash page, viewable when connecting to the WiFi network. SOLD OUT
CHARGING STATION SPONSOR
Sponsorship of the charging stations at this year's conference offers elevated brand recognition through custom-branded charging stations located in several high-profile locations on the exhibit hall floor.